Decorate like city girl Line
Danish Landscape Architect, 34 years, with a love of interior

Children's bedrooms in the middle of Copenhagen
We have had a chat with the inspiring Danish mum and landscape architect, Line, mother of two boys at the age of 3,5 and 6 and a bonus daughter age 19 - about how she style her children's bedrooms to please both the little ones as well as the adults.
She has a beautiful touch.
Have a look!
How did you decide where to live?
We used to live in a small townhouse in the center of the city, but as our family grew, and my bonus daughter wanted to move in with us, we looked for a bigger space. A home in one level, instead of the four we had in the old house in 'Kartoffelrækkerne'.
We talked a lot about moving out of the city in a larger house, but we both love the vibe and city life in Copenhagen, so instead we found a large apartment and bought a summerhouse.
Why did you choose this place?
Our apartment lies in the very same building of where Prime Minister Stauning back in 1933 reached the historic settlement 'Kanslergadeforliget'.
The building was designed by architect Henning Hansen, and dates from 1919.
It's therefore a protected building for both historical and architectural reasons. We love living in a part of history and cherish all the little original details in the building.
Do you embrace the amount of stuff that comes with having children, or do you find it challenging to cope with the mess?
My kids have toys in almost every room in our home. But each room has a certain space for toys, so when the kids are done playing, they know where to put it, so that it doesn't disturb the eye. I believe that as long as you help your children clean up and pack away their toys, over time, they will have learned to do it themselves. My 6 year old has reached an age where he tidies voluntarily and on his own initiative. That has been worth the wait.
Describe your place; tidy or messy?
I think it depends on the eye of the beholder. We live in a big apartment, with large rooms and a beautiful natural light. This makes the rooms appear relatively tidy. But we also have a mixture of all kinds of furniture. Most of our things are inherited or bought at auctions, so there is not always a clear line or style in terms of interior design. But I think it somehow works because of the combination of space and light in our apartment.
It is completely opposite to our tiny summerhouse, where I have tried to keeping it tidy and simple in colour scale as well as in furniture, so that the small house doesn't appear cluttered.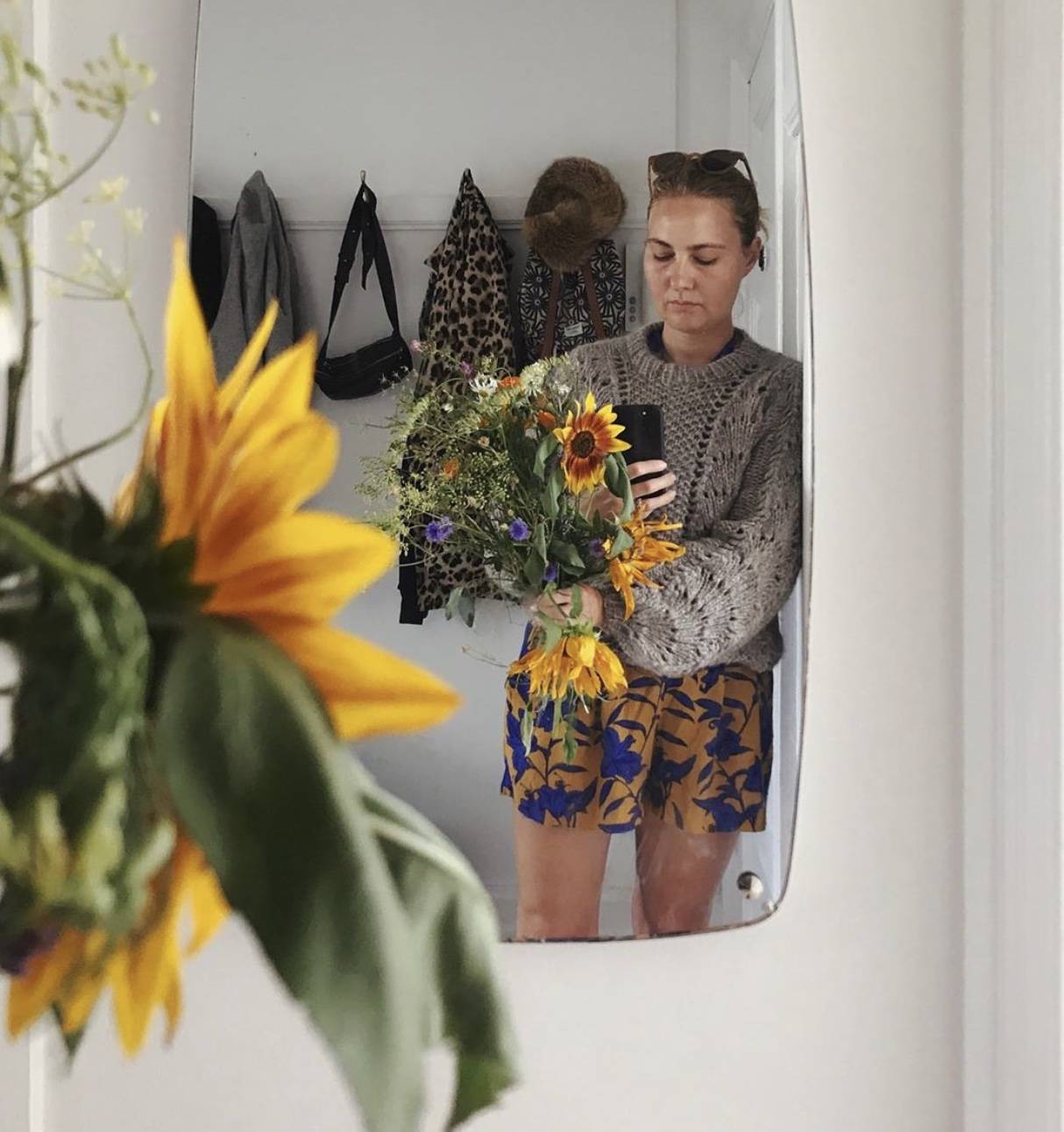 Has your interior changed after having children?
No, not especially. I grew up in a home with classic Danish design. That made me appreciate the quality of good craftsmanship rather than the 'use and throw away' furniture. Something I would like my children to appreciate as well. As a child I went to a Waldorf School, where we learned how craft things property with our hands, that was a very leading experience and process. Both my children are always looking forward to working with wood when visiting their grandfather, together they craft all kind of toys and furniture. In that process they both learn and produce beautiful thing that gives quality to our home interior wise.
Which rules do you live by when it comes to interior for children?
Quality works best in the long run. I think there was something good about children learning how to look after the things that they surround themselves with. That's why I'm also comfortable when giving them quality furniture. After all, they are made to be used, and if you find something of good quality, then it lasts longer in my experience.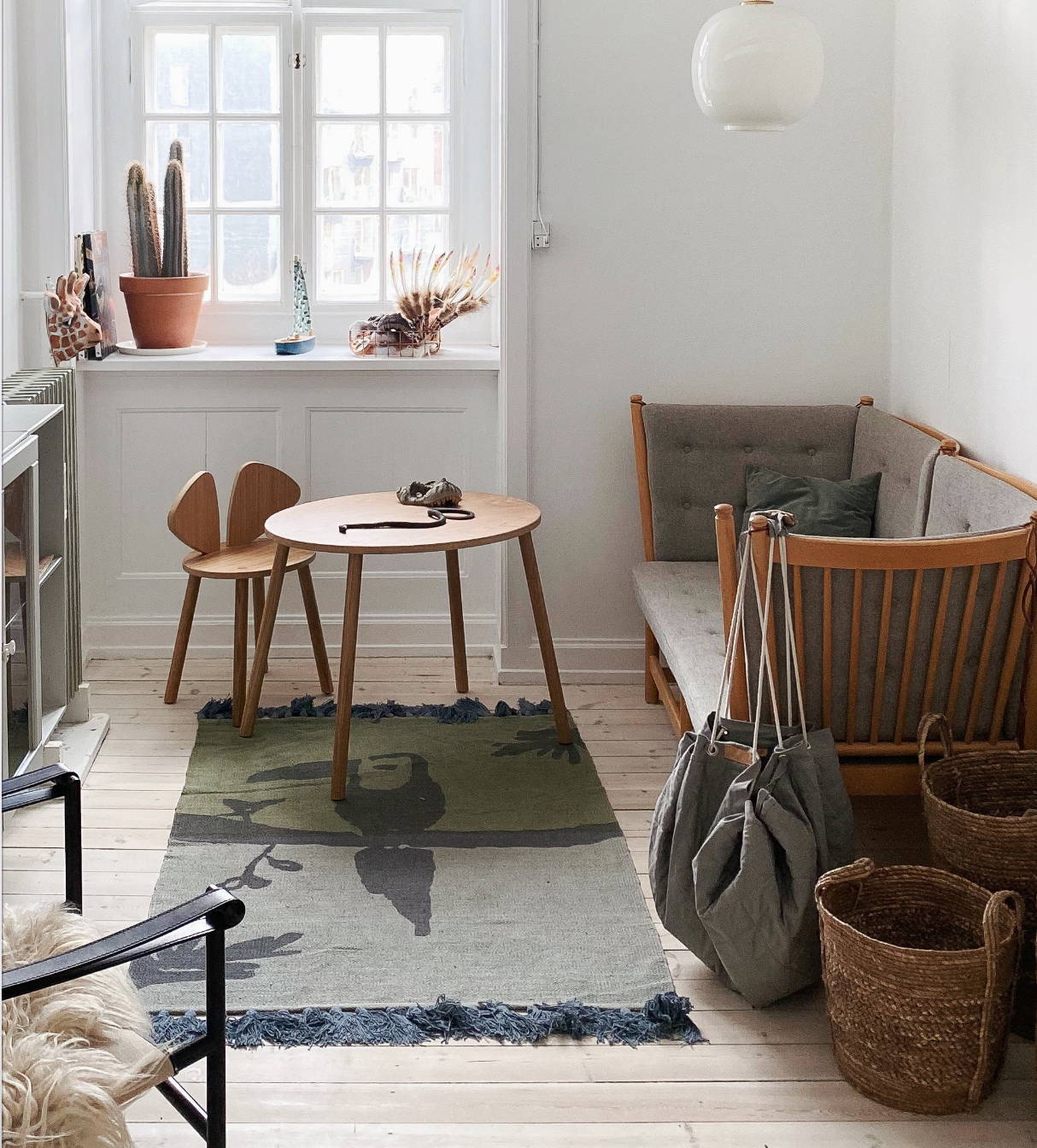 Explain your thoughts behind the children's room –
how have you decorated it and why?
We're lucky that both my boys have a little extra room where we have built shelves and storage for most of their toys. That makes it easy for them to clean up their toys because they know where things belongs. They also have some baskets on the floors of railways etc..
School kid
The 6 year old has the smallest room in the apartment. To exploit the space, he's got a large loft bed to sleep on. The creates space on the floor for a couch, an armchair and a small school-desk and a chair.
The childrens room

I appreciate the fact that the children's rooms also has space for the parents to visit, and I often find myself sitting in his couch with a coffee in my hand while he is drawing or listening to music.
Both boys have a couch in their rooms, but with the youngest, have one that folds out so that it can be used when jumping down from the old rib on the wall or roll around on, doing gymnastics or thinks like that.
Most of the furnitures in our youngest room are mobile, he loves to build caves with them or and move his furniture into the other rooms in the apartment. It's a big plus with mobility in children's furniture in my opinion as the children then can be together with us when they want to.
Which colours do you go for and why?
The boys have choosing the color range for the painted surfaces in their rooms. They both like green, so we've mixed up some green colors used in both rooms. In addition to the green, there are not much colors in the rooms which i believe creates a good calmness in the rooms as a counterpart to the often very colourful toys they have. I think by keeping it very tone by tone, the toys don't seem so messy even on days where there a toys everywhere.
Which room in your home do you use the most?
I think is our living room, where the kids have lots of space to play while we can sit in the couch, knitting or working. Or playing along with the boys :)
Do your children have toys permanently in the living room, or do the toys travel back and forth from the children's room?
Both, it work quit well as long as the toys have a place to be placed when is not in use.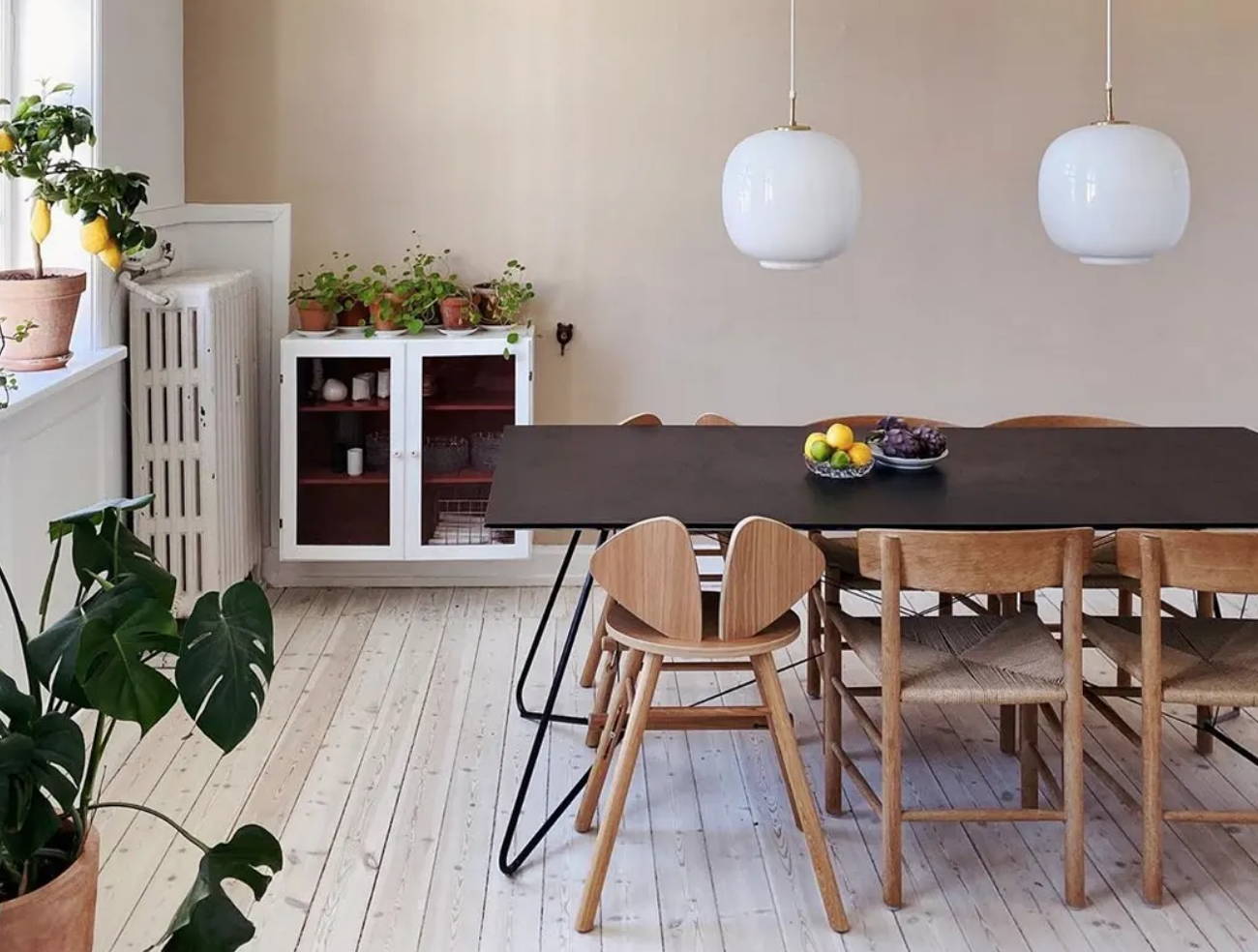 Which children's brands do you love?
Hildestad Copenhagen, they make the smartest storage-bags for Lego and other small think so that's its easy to take pack and bring to the summerhouse or other places outside the home.
Toys
Modu Toys, they make this building blocks that the children can make all kinds of thing out of. My boys love to make cars and make races in the apartment. There are many outs of playtime in this seemingly simple blocks.
Fanny & Alexander, they make beautiful wooden toys and recently released a book called The Nature of Play, with many great ideas on how to play in or with nature, with suggestions to seasonal activities that are both fun and learning for both children and parents.
What are your favourite products from Nofred, why, and how do you use them?
Current my 6 year old sits at his school table all the time drawing or building Lego. So for his age this is a huge hit at the moment. Both boys also love to play with their Harbour boats, where mini figures from Toy Story sails around the 'ocean' / the kitchen floor.