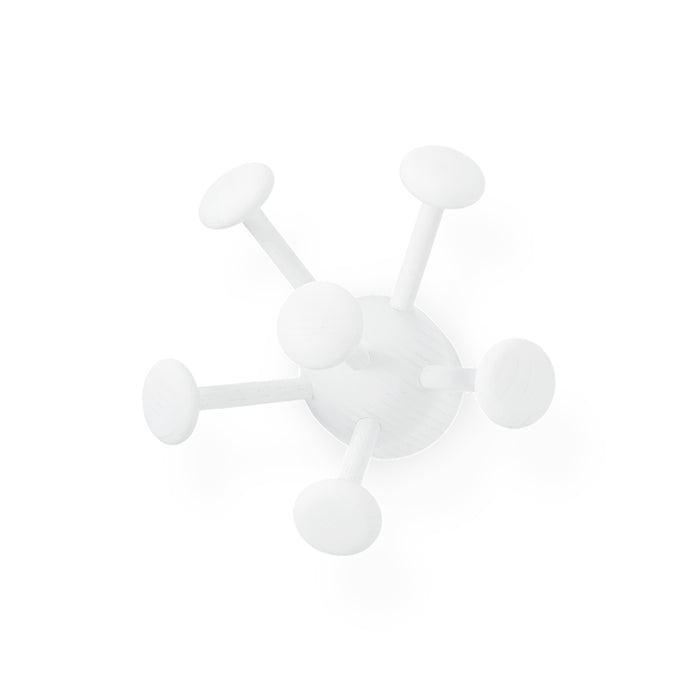 Wall Bug Hook
Original price
€55,00
-
Original price
€55,00
Wall Hook for kids
The children's wall hook are not only practical, but also provide in a decorative and cute way for a lot of fun in the children's room or hallway.
Are you tired of having small jackets, caps and hats thrown all over the floor? Hang it!
It invites the child to be more independent every day - hanging their outdoor clothing in the hallway or preparing their fancy dress, jewelry and masks in the children's room.

Hang your child's bag, jacket, scarf and helmet on one "multi-hook" with six pegs.
Make your child more independent in everyday life with a personal multi-hook at their height.
Use the Wall Bug in the hallway, bathroom or children's room by itself or in a group.
These cute wooden hooks will undoubtedly spread joy in your kids' rooms.
See also our NEW Stars & Moons wall hooks here.
Wall Bug won the gold medal at Junior Design Awards 2020.
/ Designed by Anderssen & Voll
PRODUCT NAME Wall Bug
MEASUREMENTS Ø:16 x D:13 cm
WEIGHT 0,22 kg
MATERIAL Ash wood with matt PU lacquer. Screws for fixing are not included.
CARE Clean with dry or moist cloth. Do not use any abrasive cleaning tools.
SAFETY Meets all tests within European safety standards.
TESTING EN 14749
PRICES
For details on shipping prices please go to our shipping page or contact us by filling out this form
DELIVERY TIME
If you submit your order before 12 pm, we usually ship on the same business day.
Orders placed later are dispatched on the following business day, excluding Danish public holidays.
Our warehouse is located in Denmark and delivery time may vary within 1-3 business days.
TRACK & TRACE
Once your order has been shipped, we will send you the tracking number on the package via email.
Please note that it may take up to 24 hours from the time you receive the shipping confirmation email before the link is active.
RETURN & EXCHANGE
If the delivery appears to be damaged, we ask you to receive with reservation. If the product is damaged, please contact us within 24 hours at info@nofred.com.
For further details on prices and delivery please go to our shipping page or read our FAQs.