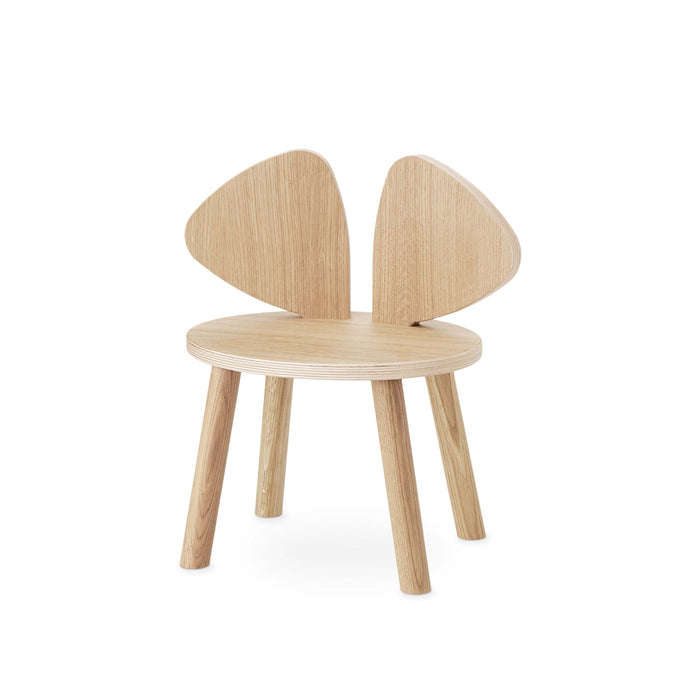 Mouse Chair
Original price
€188,00
-
Original price
€188,00
Mouse Chair is a design classic with a cute animal-inspired touch.
Add a toddler space to the home where your child can be close by, which you can leave out when the guests arrive and after the children go to bed. Mouse Chair is an iconic wooden chair that looks like a mouse. With its simple and modern feel, it both delights its miniature users and is functional in the home.
Give your child a friendly seat in their size amongst the adult interior.
Support your child's playfulness, curiosity, and creativity with a place they can call their own.

Every piece of furniture is produced in veneer with the highest quality of natural wood.
Combine functionality and design in your home with a space for your 2-5-year-old.



Fitting perfectly with the Mouse Table

/ Danish design by Nofred, made in Europe.
PRODUCT NAME Mouse Chair
AGE 2-5 years
MEASUREMENTS W:42,5 x D:28 x H:46 cm (seat height: 26.5 cm)
WEIGHT 2.7 kg
MATERIAL Oak veneer with matt PU lacquer
CARE Wipe with a clean, damp cloth. Use mild soap on stubborn marks. Avoid rubbing and products containing ammonia.
SAFETY All furniture in the Mouse series has been tested at the Danish Technological Institute and meets all European safety regulations for children's furniture.
TESTING European Standards EN 17191:2017. Test severity Level 2.
PRICES
For details on shipping prices please go to our shipping page or contact us by filling out this form
DELIVERY TIME
If you submit your order before 12 pm, we usually ship on the same business day.
Orders placed later are dispatched on the following business day, excluding Danish public holidays.
Our warehouse is located in Denmark and delivery time may vary within 1-3 business days.
TRACK & TRACE
Once your order has been shipped, we will send you the tracking number on the package via email.
Please note that it may take up to 24 hours from the time you receive the shipping confirmation email before the link is active.
RETURN & EXCHANGE
If the delivery appears to be damaged, we ask you to receive with reservation. If the product is damaged, please contact us within 24 hours at info@nofred.com.
For further details on prices and delivery please go to our shipping page or read our FAQs.